MLS Laser Therapy in Doylestown
Advanced FDA- Approved Therapy for Pain & Inflammation
Inflammation and pain resulting from injuries and physical disorders can sideline you from your daily activities, including work, play, exercise, and sports. Dealing with these physical problems can be frustrating and time-consuming, often resulting in little or only partial relief. Treatments range from the minimum of ice, heat, and rest to invasive surgeries.
In recent years, a significant shift in the medical field has occurred toward innovative and non-invasive treatments of adverse physical problems. One such revolutionary technique is the Multiwave Locked System (MLS) Laser Therapy. This cutting-edge therapy offers a unique approach to addressing various physical ailments and promoting overall health.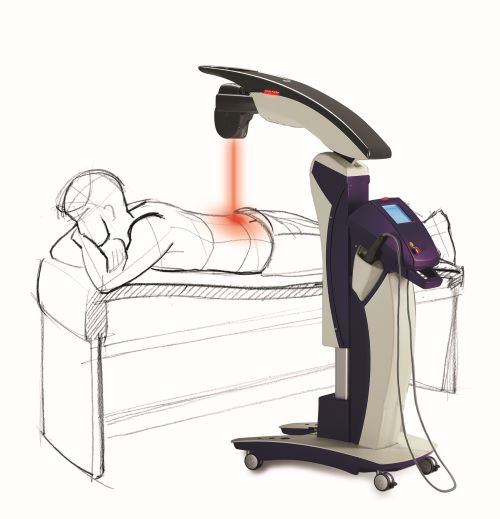 What Is MLS Laser Therapy?
MLS Laser Therapy is a treatment modality that uses specific light wavelengths. These wavelengths are directed to the precise body area that is the site of injury or disease. They work by stimulating the body's natural healing processes. Patented and cleared by the FDA, MLS laser therapy has become a safe and effective option for patients suffering from painful and debilitating physical conditions.
This treatment works through the use of synchronized, low-powered therapeutic lasers. These lasers emit a powerful blend of energy that penetrates the skin's depths, focusing on the specific area of concern without damaging adjacent tissues.
As a form of rehabilitation, it can:
Ease and block pain
Reduce inflammation
Speed soft tissue repair
Improve blood circulation
Increase oxygen
Stimulate acupuncture points and muscle trigger points
Reduce scar tissue
Improve nerve function
Accelerate wound healing
What Conditions Can Benefit from MLS Laser Therapy?
MLS laser therapy is especially beneficial in addressing discomfort and other symptoms common with musculoskeletal conditions.
Common conditions that can benefit from MLS laser therapy include but are not limited to:
Neck and Back Injuries
Sciatica
Herniated Discs
Spinal Stenosis
Arthritis
Bursitis
Sprains and Strains
Spondylosis
Disc Degeneration
Work and Sports Injuries
Knee Conditions
Rotary Tears
Plantar Fasciitis
Neuropathy
Tennis and Golf Elbow
The mitochondria within the cells are often referred to as the cells' "powerhouse" because they play a critical role in bodily healing and regeneration. This is done by providing chemical energy to the mitochondria called "ATP" molecules.
MLS Laser Therapy works because the laser's energy penetrates deep into the skin, reaching the damaged cells and tissues, promoting cellular metabolism. This therapy jump-starts the body's healing process by stimulating the mitochondria. The result is a reduction of inflammation, alleviation of pain, and enhanced recovery time.
Overall Benefits of MLS Laser Therapy
MLS laser therapy has become a workable therapy that has led to pain-free lives for millions of individuals worldwide.
As a treatment, it provides other benefits, including:
Painless in the application. It requires no drugs or anesthesia and produces only a mild warmth in the area treated.
Fast and convenient. The treatment is quick, commonly lasting only 10 to 15 minutes, with sessions conducted two to three times per work. Larger areas may require longer treatment times, and treatment plans will vary depending on your condition.
Non-invasive. It is safe and without the risk of more invasive measures, such as surgery.
Effective and long-lasting. Studies performed by academic institutions, such as Harvard University, have shown that laser therapy is equal to or more effective than other forms of treatment. Many people see lasting results because it treats the root of the problem.
Can be combined with other therapies. It can often enhance the effectiveness of other treatments, such as physical therapy, chiropractic, massage, soft tissue mobilization, electrotherapy, and recovery from surgery.
Choose Advanced Spine & Sports Medicine for Your MLS Laser Therapy
We are proud to be at the forefront of medical technology in offering MLS Laser Therapy. As a premier healthcare provider in Doylestown, this therapy has become a critical component in our arsenal of effective treatments that promote your body's ability to heal.
If you would like to learn more about MLS laser therapy and its healing potential, we urge you to talk to a member of our team today.
Contact us at (215) 515-9991 to schedule your appointment.